A 54-year-old man was killed after a deadly hit-and-run pedestrian accident in New Braunfels on Saturday morning, September 11th.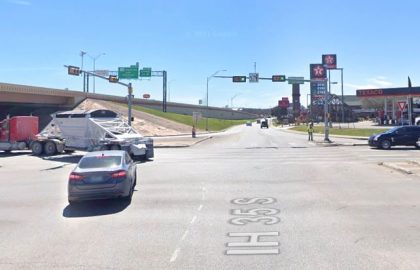 The fatal accident transpired at approximately 8:30 a.m. in the 1000 block of Interstate 35 North at Highway 46 in Braunfels. The 54-year-old man pulled his 18-wheeler over onto the highway's shoulder, possibly due to mechanical failure. He then exited his vehicle and stood near the back left corner of the trailer.
While the man was standing near his vehicle, he was then struck by a northbound four-door Dodge Neon. The driver of the Dodge reportedly attempted to avoid the tractor-trailer by swerving but ended up hitting the man and rear-ending the tractor-trailer.
Unfortunately, the 54-year-old man was killed in the mishap. His identity has not been disclosed. The driver of the Dodge Neon did not stop to help the victim and fled the scene. Local authorities are actively looking for the hit-and-run driver.
An active investigation of the case is currently underway. Witnesses that can give more information about the accident are urged to call 911 or the New Braunfels Police Department at 830-221-4100.

Fatal Hit-and-Run Pedestrian Accident Statistics
Pedestrians comprise a significant portion of traffic fatalities over the past 33 years. Why is that? Because pedestrians are less protected from the dangers on the road, they face a greater risk of being harmed than passengers in a private vehicle. More than 5,900 pedestrians were killed in the United States in 2016, according to data from the National Highway Traffic Safety Administration (NHTSA), the government agency responsible for traffic safety in the country.
10% of all pedestrian deaths in the US in 2017 occurred in Texas. A 5 percent increase in pedestrian traffic deaths was seen in Texas in 2019, following 5,975 collisions, with 669 fatalities. In this case, the pedestrian was struck by a hit-and-run driver. Eight percent of hit-and-run crashes occur in Texas, placing it eighth in the United States.
In 2016, 2,049 people died in hit-and-run accidents in Texas, which was a new high and a 60 percent increase from 2009, according to a press release from the American Automobile Association. The Texas Vehicle Code requires drivers to stop after they are involved in an accident involving another person's injury or death. The driver must give their name, address, vehicle registration information, and other information requested by law enforcement.
Comal County Wrongful Death Attorney for Victims of Fatal Hit-and-Run Pedestrian Accidents
If you are ever involved in a hit-and-run, an attorney can help you with various issues, including helping the victim's family file a wrongful death claim. Hit-and-run victims often face the challenge of recovering compensation because the drivers responsible for the crash fled the scene. You may need to come up with a way to pay for unexpected medical expenditures as well as car repairs.
If you're insured by UIM coverage, a wrongful death lawyer can help you obtain the maximum reimbursement for your damages. If the person who struck you is identified, you may also want to contact a lawyer about the possibility of filing a suit. After an accident, it is helpful to consult with a lawyer who can review the relevant accident report to recover financial damages.
Our team of lawyers from Arash Law Texas is dedicated to ensuring you receive justice and assisting you with the litigation process. The lawyers in our wrongful death department will help you discover how you can recover your full financial compensation. Since our lawyers work on a contingency fee basis, we can deliver first-rate legal representation without any of our clients having to pay out of pocket. If we recover your property, you will only be charged a fee. To get a free consultation with our Texas car accident attorneys, call (888) 398-4017 today.