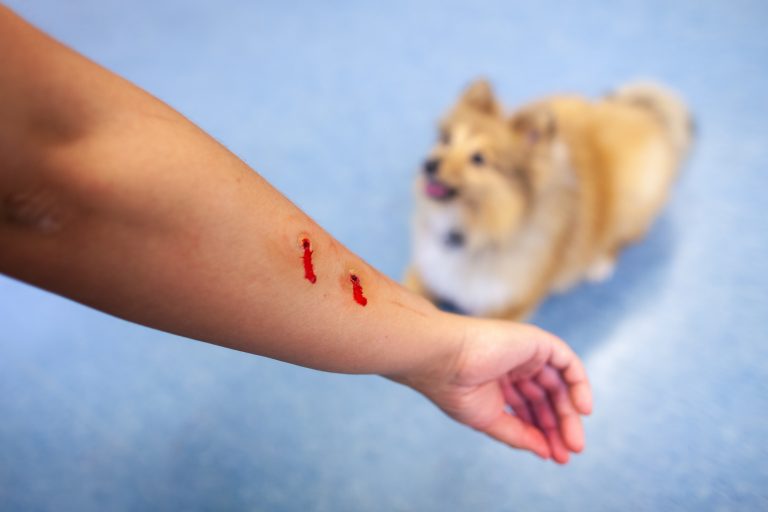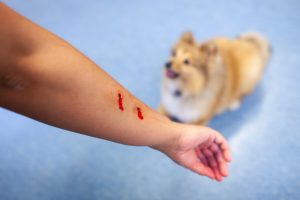 If a dog bites you in someone else's house, you likely have the legal right to obtain compensation for your injuries and losses. It is essential to know what to do to protect this legal right. A dog bite injury lawyer can help protect you, but your legal rights are in jeopardy as soon as a dog bite occurs.
This fact is why it is essential to know what to do immediately after a dog bite occurs and until you can hire a lawyer. The experienced Texas dog bite lawyers at Arash Law Texas are here to help fight for your legal rights and get you the compensation to which you are entitled.
Learn more about what to do to protect your legal rights after someone else's dog bites you in their home.
1.) Get medical attention right away.
The most important thing anyone can do after suffering an injury is to see a doctor as soon as possible – even if there doesn't seem to be anything wrong at first. There are many "latent injuries" that do not show up right away. These injuries might not show symptoms until hours or even days after an injury occurs.
Many internal injuries are not always immediately apparent. Brain injuries, internal bleeding, and other serious conditions can be deadly if not treated right away. Only a qualified medical professional can determine if you have suffered an internal injury. If you do not feel like you need an ambulance, you should still visit an urgent care facility or emergency department as soon as possible.
Getting immediate medical treatment will give you the best possible chances of recovering from your injuries. It will also protect your legal right to obtain compensation for them. With dog bites, one of the biggest potential complications is the risk of infection. Dog mouths are known to be breeding grounds for all types of bacteria.
Even a seemingly minor bite can become infected with highly dangerous microorganisms. The risk of infection is just one more reason it is important to see a doctor right away. A doctor can determine if you need vaccines, immunizations, or antibiotics to prevent a life-threatening infection. Do not wait until an infection has already taken hold in your body.
At that point, it will be far more difficult and expensive for doctors to fight the infection. It could even put you at risk for a life-threatening condition called sepsis.
2.) Find a dog bite lawyer as soon as possible.
It's worth repeating: your legal rights are in jeopardy as soon as an accident occurs. Fort example, the insurance company could use something you blurt out at the scene of the accident against you. Insurance companies often try to twist a victim's words against them.
Even something as simple as "I didn't see your dog!" or "I was just trying to pet him!" could be a problem in a dog bite injury case. As soon as you notify the insurance company that you have a lawyer, they can no longer contact you about your case. All communications must go through your injury lawyer's office.
This fact protects you from accidentally saying something that they could later use against you to the insurance company. The sooner you have an injury lawyer on your side, the better protected your legal rights will be. Call Arash Law Texas for legal help as soon as you have addressed your immediate medical needs. We start working to protect your rights the second we pick up the phone.
3.) Follow through on all treatment recommendations from your medical providers.
Many dog bites require long-term care. You might have to have an extended course of antibiotics to reduce the risk of infection. Deep wounds might require painful surgery and skin grafts. The recovery from these procedures can be excruciating, and injury victims are entitled to compensation for their pain and suffering.
By following through with your doctors' recommendations, you will be giving your body the best possible chance of recovery. You will also protect your right to be compensated for these procedures – as well as the pain and suffering they cause. If you do not follow your doctor's treatment recommendations, the insurance company could claim that you made your injuries worse by failing to treat them promptly.
4.) Document all the ways your life has been affected by your injuries.
As injury lawyers, the legal team at Arash Law Texas knows how to prove the full value of your pain and suffering. It can be difficult to remember all the ways your life has been affected by your injuries. It is important to photograph visible injuries, such as cuts, scrapes, bruises, stitches, or broken bones. It is also important to keep a record of the other ways you have been affected.
A pain journal can help you keep track of your suffering. It can also help you record the nights you could not sleep, the days you had to miss work, and other events that you missed out on due to your injuries. All of these losses are part of your pain and suffering, and you are entitled to obtain compensation for them.
What If I Know the Dog's Owner? Will I Have To Sue a Friend?
Many dog bite cases create awkward social situations. The awkwardness usually arises because victims usually know the dog's owner. It can be uncomfortable to file a legal claim against a friend or family member. It helps to understand what the process entails. In many cases, our lawyers can settle a claim directly with the homeowner's insurance company.
This fact means that you do not have to file a lawsuit against them. Homeowner's insurance typically pays victims for injuries that occur on an owner's property – including dog bites – and this coverage is why the homeowner pays premiums. It is your right to file a claim against the homeowner's insurance for injuries that occur on the property.
In many cases, it helps to simply explain the situation to the dog owner. (Be sure you consult with your attorney about what to say, so you do not accidentally hurt your case.) Many people understand that homeowner's insurance covers dog bites and that filing a claim does not mean you are angry with them. Ask your lawyer about the best way to smooth things over with the dog owner without saying something that could hurt your personal injury claim.
Other Legal Proceedings Related To Dog Bites
A personal injury claim is not the only legal case that can occur due to a dog bite. Your dog bite lawyer will assist you with your injury claim, and they can also explain the other legal issues that could come up. For example, if the dog has bitten someone before, a local animal control agency might open a case or even take the dog into their custody temporarily.
Animal control agencies protect the public from dangerous animals. It is important to let them assess the situation after a dog bites to ensure that other innocent victims do not suffer. Animal control officers might ask you for a statement or photos of your injuries. Your injury lawyer can answer any questions you have about these requests.
In rare cases, there could be criminal charges brought against the dog owner. Criminal action rarely occurs in simple cases of negligent dog ownership. But if the owner has trained the dog to attack or intentionally baits the dog, a prosecutor might decide to file assault charges. Crime victims have specific legal rights in criminal cases.
This fact means that a victim advocate at the prosecutor's office might contact you about the case. Your injury lawyer does not represent you in the criminal proceedings, but if you have questions, be sure to ask. Prosecutors can also use statements you make in a criminal case in your civil case for a personal injury claim. This fact is why it is important to know what to say -and not to say – even if the prosecutor is on your side.
The Right Injury Lawyers For All Texas Dog Bite Cases
You have already found the best dog bite injury law firm in Texas. At Arash Law Texas, our dog bite lawyers have decades of experience. We have collected over 200 million dollars for clients across Texas on a wide variety of accident cases. We work with clients throughout Texas, including the communities of Laredo, Brownsville, McAllen, El Paso, San Antonio, Pasadena, Corpus Cristi, Odessa, Houston, Dallas, Irving, and Grand Prairie.
You don't have to spend hours online searching for a "dog bite injury lawyer near me" – our lawyers are close by, wherever you live in Texas. Call (888) 398-4017 to schedule your free consultation. Don't wait to get an attorney on your side to protect your legal rights.