According to police, one person died, and another is in critical condition after a collision with a big rig in Kerrville during icy conditions on Thursday, February 3, 2022.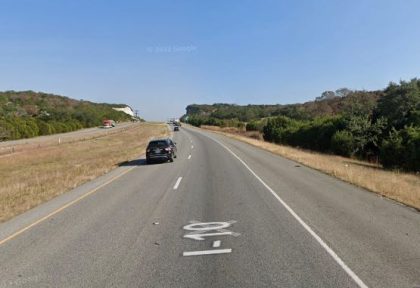 The fatal two-vehicle crash happened around 9:29 p.m. on I-10 near mile marker 510.
Kerrville police responded to the crash scene after receiving reports of a collision between two vehicles.
According to Kerrville Police Department, when officers arrived at the scene, they discovered a tractor-trailer had collided with a Ford F-350 pickup truck.
According to police, the tractor-trailer driver was traveling westbound when they attempted to slow down due to icy road conditions.
The tractor-trailer slid and flipped on its side, colliding with a Ford truck that had come to a halt due to traffic.
The two people in the truck were seriously hurt and taken to Kerrville's Peterson Regional Medical Center, where they were listed in critical condition, according to police.
One of the truck occupants died around 6:30 a.m. on Friday at the hospital.
The identities of the people involved have yet to be disclosed.
There is no word on the other person's condition.
Local authorities are still investigating the crash.

Fatal Two-Vehicle Crash Statistics
People in the United States have been dying or being injured in car accidents for some time now. According to the National Safety Council, more than 38,000 people were killed in car accidents in the United States in 2010.
In Texas, auto accidents are a major cause of death and serious injury. In Texas, one person is killed and another injured every hour and twenty-one minutes by car accidents.
For every 100 million miles driven in Texas, a traffic accident claimed the lives of 1,50 people. The year 2020's figure of 1.26 is up 18.94 percent.
Car accidents have resulted in an increasing number of deaths and injuries in Texas. Over the course of 2020, 3,623 people died, an increase of 7.54 percent from 2019.
In the year 2020, more than 14,000 Texans have lost their lives or have been seriously injured in car accidents.
Kerr County Car Accident Lawyer for Victims of Fatal Two-Vehicle Crash
About 4.5 million people in the United States are injured or killed in car accidents each year. Car accident victims' loved ones may find it difficult to comprehend their loss.
After a tragic accident, an experienced lawyer is the best source of information about your legal options. In order to avoid being taken advantage of by their insurers, victims of car accidents should be knowledgeable about their legal rights and compensation options.
A car accident lawyer can help you get compensation if you find yourself in a similar situation.
Our Kerr County car accident lawyers at Arash Law Texas have extensive experience recovering compensation on behalf of injured clients. Our attorneys are prepared to take on any case and provide our clients with the best possible legal representation.
Hiring an attorney as soon as possible is the best way to ensure that your legal rights are protected. For a free consultation with one of our attorneys, contact us at (888) 398-4017 or fill out our intake form online.