A 24-year-old student identified as Renzo F. was killed by a suspected drunk driver who ran a red light at the Katy intersection on Sunday, February 6, 2022.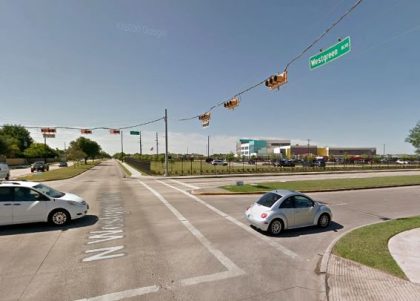 The collision occurred early Sunday morning at the intersection of Franz Road and Westgreen Boulevard.
The student was identified as the victim by family members.
He died at the hospital as a result of the incident.
According to the victim's brother, Flores was on his way home when the accident occurred.
The moments a woman, identified as llianna Z., ran a red light and slammed into the victim's car are captured on surveillance video from the New Franz Food Mart.
Flores was driving eastbound in a Mazda when he entered the intersection, according to the crash report.
Zepeda was driving northbound on Westgreen in a gray 2017 Ford Fusion.
Zepeda then allegedly ran a red light, colliding with Renzo's vehicle.
His car flipped over as a result of the collision, scattering debris throughout the parking lot.
According to investigators, Zepeda walked away from the accident and returned with signs of intoxication.
Zepeda is charged with intoxication manslaughter and failure to stop and render aid resulting in death.

Fatal DUI Accident Statistics
Accidents may rise during the holiday season due to the increased traffic.
A record number of accidents occurred during the holiday season for the Department of Public Safety (DPS).
HelpAdvisor ranked Texas as the most dangerous state to drive during the holidays. Between 2015 and 2020, numerous Texans were killed in car accidents as a result of drunk driving or texting while driving.
As a result of an increase in the state, the number of fatalities from hit-and-run accidents in Texas has risen to the 8th highest national level. According to the Texas Department of Criminal Justice, the number of people killed in hit-and-run accidents rose by 30% between 2015 and 2016.
A hit-and-run driver is responsible for one out of every five pedestrian accidents in the United States. The majority of hit-and-run victims are innocent pedestrians.
Harris County DUI Accident Lawyer for Victims of Fatal DUI Crash
Families and friends of the deceased will be devastated if a loved one is killed in a hit-and-run accident. Insurance companies may take advantage of people who aren't aware of the dangers. A car accident lawyer's services can help you in a number of ways.
The driver who fled the scene should cover any medical bills incurred by accident victims and their families. Arash Law Texas is your best bet when it comes to securing compensation.
In a hit-and-run case, an experienced lawyer can make all the difference. It's critical that you look after your physical and mental well-being at this point. Your legal rights will be protected to the fullest extent of the law by our attorneys at Arash Law.
You can count on our Harris County DUI accident lawyers at Arash Law Texas for an aggressive representation in fighting for your rights. Since the beginning of our practice, clients who have been hurt in car accidents have known they can trust us. If you've been injured in an accident, contact us for assistance. People who have been the victims of hit-and-runs are among our primary focus areas. Call (888) 398-4017 to schedule a free consultation with one of our attorneys.