According to Austin-Travis County EMS, one person was killed, and another was placed on trauma alert after a fatal crash in southeast Travis County on Tuesday, February 15, 2022.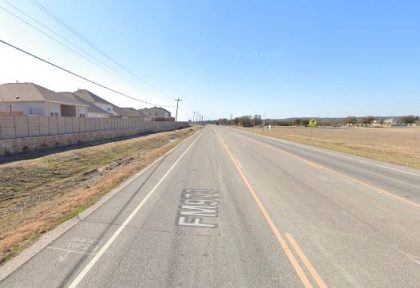 The fatal two-vehicle crash occurred at about 6:30 a.m. on U.S. Highway 183 near FM 973 in southeast Travis County.
According to Texas Department of Public Safety Trooper Deon Cockrell, a truck towing a trailer rear-ended a car that slowed down on the 9100 block of the highway.
The slowed car crossed into oncoming traffic was hit and caught fire. Meanwhile, the truck and trailer collided with a nearby church. According to officials, officials are working to stabilize the church building, and no one connected to the church has been injured.
Due to the fatal crash, all lanes of U.S. Highway 183 near FM 973 in southeast Travis County were closed.
According to ATCEMS, the trauma alert patient was transported to St. David's South Medical Center in Austin for treatment.
The Travis County Sheriff's Office initially stated that the southbound lanes and one northbound lane were closed but later updated to state that all lanes are closed in both directions.
The U.S. 183/FM 973 intersection is located south of Austin-Bergstrom International Airport and north of the State Highway 130/State Highway 45 interchange. McKenzie Drive, just south of Colton, is the closest cross street to the crash, according to ATCEMS.

Fatal Two-Vehicle Crash Statistics
People have been dying and being injured in car accidents in the United States for some time now, a sad fact. In 2010, more than 38,000 Americans lost their lives in automobile accidents.
Motor vehicle accidents are the leading cause of death and serious injury in Texas. The state of Texas sees one fatality or injury caused by a car accident every hour and twenty-one minutes.
Texas has a fatality rate of one per 100 million miles driven. The number 1.26 will have grown by 18.94% by the year 2020.
Texans have seen a steady rise in the number of fatal and non-fatal accidents. More people died in 2020 than they did in 2019.
In 2020, there were more than 14,000 traffic-related deaths and injuries in Texas.
Travis County Car Accident Lawyer for Victims of Fatal Two-Vehicle Crash
4.5 million people in the United States are injured or killed in car accidents each year. When a loved one is killed in an automobile accident, their families may struggle to comprehend the magnitude of their loss.
An experienced personal injury lawyer can help you sort out your legal options after a tragic accident. After a car accident, be aware of your legal rights and compensation options to avoid getting taken advantage of.
If you find yourself in a situation like this, an attorney's help can be priceless.
Our Travis County car accident lawyers at Arash Law Texas will work to ensure that accident victims get the compensation they deserve. There is no case too big or too small for our attorneys, and they will always put the interests of their clients first.
Hiring an attorney as soon as possible is the best way to ensure that your legal rights are protected. You can reach us at (888) 398-4017 or fill out our online intake form to schedule a free legal consultation.