A fiery crash killed four people near Bush Intercontinental Airport on Friday, February 18, 2022.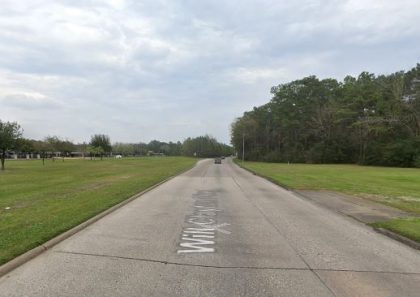 It happened around 12:50 a.m. in the 5700 block of Will Clayton Parkway.
The driver of a black Nissan with three passengers was speeding when he side-swiped a ride-share driver who was on his way to pick up passengers from the airport, according to police.
The speeding car lost control and collided with a tree, causing it to burst into flames.
According to officials, all four people, who appeared to be adults, were severely burned and died at the scene.
Unfortunately, four people, all of whom appear to be adults, were inside the vehicle at the time of the crash. They had been badly burned.
According to Lt. R. Willkens, they don't know if the impact or the fire killed the victims, but it was a tragic and severe accident.
According to police, the ride-share driver was not injured.
Investigators say he came to a halt after the crash and was questioned, but he showed no signs of intoxication.
There are no other details available.
The crash remains under investigation.

Fatal Two-Vehicle Crash Statistics
More and more Americans are being killed or injured in car accidents, and this trend has continued for some time now. According to the National Safety Council, more than 38,000 people were killed in car accidents in the United States in 2010.
A significant number of deaths and serious injuries in Texas can be attributed to automobile-related accidents. Every hour and twenty-one minutes, a car accident results in the death of one person and the injury of another in Texas.
Approximately one Texas driver is killed every 100 million miles driven in the state. An 18.94 percent increase to 1.26 in 2020 has occurred.
There had been a rise in the number of people killed and injured in Texas car accidents. The overall death toll rose by 7.54 percent in 2020 when compared to the previous year.
Car accidents had killed and injured more than 14,000 Texans in 2020.
Harris County Car Accident Lawyer for Victims of Fatal Two-Vehicle Crash
Approximately 4.5 million people in the United States are injured or killed in car accidents every year. The loved ones of car accident victims may find it difficult to comprehend what they have lost.
After a tragic accident, the best way to learn about your legal options is to speak with an experienced lawyer. In order to avoid being taken advantage of by their insurers, victims of car accidents should be knowledgeable about their legal rights and compensation options available to them in court.
A car accident lawyer can help you get compensation if you're in a similar situation.
Contact our Harris County car accident lawyers for a free consultation at Arash Law Texas if you or a loved one has been injured in a car accident. Our lawyers are ready to take on any case that comes their way in a court of law.
Hiring an attorney as soon as possible will help to ensure that your legal rights are protected. Call us at (888) 398-4017 or use our online intake form to set up a free consultation with one of our attorneys.