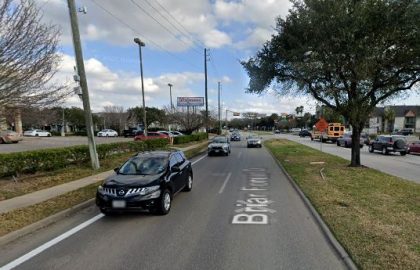 A cyclist was killed in a bicycle accident after attempting to cross Highway 6 late Sunday night, February 20, 2022.
The fatal crash occurred at about 8:45 p.m. on Highway 6 near Briar Forest Drive.
A man was riding his bike northbound when he attempted to cross the street and was struck by a car, according to Houston police.
The driver came to a halt and signaled an officer who was only a few hundred feet away.
The cyclist was pronounced dead at the scene.
Alcohol was not a factor in this incident, according to officers, and no charges are expected.
There are no other details available. The crash remains under investigation.

Fatal Bicycle Accident Statistics
There are far more bicycle accidents in Texas than the average person is aware of. Between 2010 and 2016, at least 9,769 people were injured, and 362 people died in 16,807 bicycle accidents in Texas.
This year in Texas, 66 bicyclists were killed when they were struck by vehicles.
The figures in Harris County, Texas, are even more shocking. Cyclists were involved in 20 county-wide fatalities in 2019. Harris County, which includes Houston, is home to 30.3% of the state's cyclist fatalities.
Cyclists' good intentions are not enough to keep them out of harm's way. Cyclists who have been injured in a collision with a negligent driver must take specific steps to ensure their legal rights are protected. As a result, if you're hit by a car while riding your bike, you should contact an attorney right away.
Harris County Bicycle Accident Lawyer for Victims of Fatal Bicycle Crash
Your legal options may seem straightforward after a bicycle accident in Texas if the driver was negligent. At-fault insurance in Texas means that the person who hit you is responsible for all of your accident costs.
Many bicycle accident claims are difficult to resolve due to the complexities of these situations. In many cases, the person who hit you is going to deny any responsibility. For all they know, you could be held responsible for their actions.
Things will get even more difficult for them if their insurance company sides with the plaintiffs' attorney. Cycling-related injuries can be extremely serious, and insurance companies are motivated to pay you the smallest amount of money they can afford to.
If you've been injured in a bicycle accident, contact Arash Law today. Because of our extensive knowledge of the Texas legal system, we are well-versed in the workings of this system. Whether it's traffic camera footage, witness interviews, or consulting with accident reconstruction experts, we know where to look for evidence to back up your claim.
Our Harris County bicycle accident lawyers at Arash Law Texas are ready to fight for your rights. Call (888) 398-4017 to speak with one of our attorneys about how we can assist you.