Two people died in a fatal car accident within the city limits of Ricardo on Tuesday night, February 22, 2022.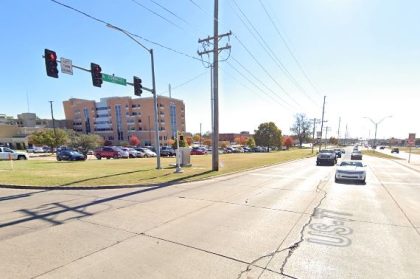 The fatal two-vehicle crash happened at approximately 7:00 p.m. on US 77 and County Road 2160.
According to preliminary investigations, the driver and three passengers of a Nissan Versa were traveling eastbound on CR 2160 towards the US 77/CR 2160 intersection.
A driver and one passenger in a Mercedes Benz were traveling on US 77 southbound.
The Nissan driver failed to yield the right of way at the intersection for unknown reasons, and the Mercedes driver struck the Nissan Versa on the driver's side door, Sergeant Nathan Brandley stated in a press release.
The Nissan Versa's female driver, 16-year-old Jaeleah G., and male passenger, 35-year-old Javier G., both from Kingsville, were pronounced dead at the scene.
A female and a male passenger in the Nissan's backseat were transported to Spohn Kleberg Hospital with non-life-threatening injuries.
According to investigators, a female driver and a female passenger in the Mercedes were also taken to Spohn Kleberg Hospital with non-life-threatening injuries.
The Texas Department of Public Safety Troopers are still investigating the crash.

Fatal Two-Vehicle Crash Statistics
The number of people killed or injured in car accidents in the United States has steadily increased over the past few years. According to the National Safety Council, over 38,000 people died in car accidents in 2010.
Automobile accidents are a leading cause of death and serious injury in Texas. It takes twenty-one minutes for someone in Texas to die in a car accident.
In Texas, a driver is killed in an accident every 100 million miles driven. In 2020, 1.26 percent of the population will have grown by 18.94 percent.
Car accidents have killed or injured more people in Texas than ever before. The overall death toll increased by 7.54 percent in 2020 compared to 2019.
According to the Texas Department of Public Safety, more than 14,000 Texans were killed or injured in car accidents in 2020.
Kleberg County Car Accident Lawyer for Victims of Fatal Two-Vehicle Collisions
An estimated 4.5 million people in the United States are injured or killed each year as a result of an accident. Car accident victims' families may struggle to comprehend the magnitude of their loss.
As soon as possible after an accident, you should seek the advice of an attorney. Victims of car accidents should be aware of their legal rights and compensation options in order to avoid being taken advantage of by their insurers.
If you find yourself in a situation similar to this, a car accident lawyer can assist you in obtaining compensation.
Contact our Kleberg County car accident lawyers at Arash Law Texas for a free consultation if you or a loved one has been injured in a car accident. Regardless of the jurisdiction, you can count on our legal team to represent you.
Make sure your legal rights are protected by hiring a lawyer immediately. By phone at (888) 398-4017 or through our online intake form, you can schedule a free consultation with us.