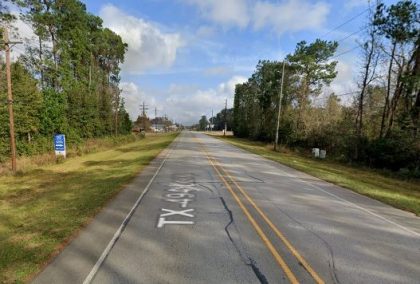 According to the Montgomery County Police Reporter, a man died after an auto-pedestrian collision in Montgomery County on Thursday night, February 24, 2022.
The fatal crash occurred before 8:00 p.m. on SH 99 near Loop 494
The Police Reporter reported that responders were dispatched to the crash scene and discovered an unresponsive man in the road's eastbound lanes.
According to the Police Reporter, CPR was attempted on the man, but he was pronounced dead at the scene.
According to the Police Reporter, he may have gotten off construction equipment before running across an eastbound lane.
There are no other details available. The accident remains under investigation.

Fatal Pedestrian Accident Statistics
According to the National Highway Traffic Safety Administration, pedestrian deaths in the United States reached 5,900 in 2016. Pedestrian fatalities in Texas are the highest in the country per capita.
In 2013, there were 1,211 serious injuries and 731 deaths as a result of pedestrian accidents. Drivers and pedestrians who fail to yield the right of way cause a large number of collisions in Texas.
According to state data, pedestrian deaths in Texas rose by 10% in 2017 compared to 2016. In 2013, more than 6,000 people were killed in pedestrian accidents in Texas.
When drivers fail to yield the right of way to people crossing the street illegally, pedestrians are frequently killed and injured. In many cases, alcoholism and/or depression are connected.
Montgomery County Pedestrian Accident Lawyer for Victims of Fatal Pedestrian Crash
Many pedestrians lose their lives each year as a result of inadequate safety measures. After a pedestrian accident results in a fatality, the victim's family will need a lawyer to pursue financial compensation.
There should be financial compensation for those who have suffered financial hardship, emotional distress, or physical discomfort as the result of the death of a loved one caused by the negligence of another party. Those who have been injured in a car accident can get the compensation they deserve with the help of an experienced car accident lawyer.
Consequently, it is critical to hire an experienced lawyer. An insurance claim is more likely to be fair if it has the assistance of a lawyer.
Our Montgomery County pedestrian accident lawyers at Arash Law Texas are ready to help you. It's not uncommon for us to win lawsuits on behalf of our clients and their loved ones over the years. Call us at (888) 398-4017 for a no-obligation consultation with one of our experienced lawyers.