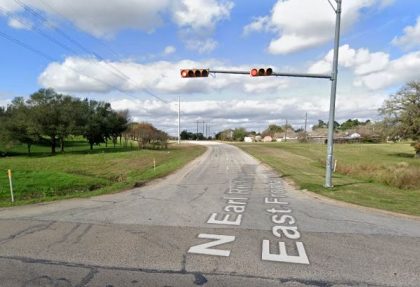 According to Bryan police, a pedestrian was struck and killed by a drunk driver early Friday morning, February 25, 2022.
According to authorities, the fatal DUI accident occurred around 1:30 a.m. near the 2300 Block of N Earl Rudder Freeway frontage road.
A pedestrian was walking in the roadway near the frontage road when the pedestrian was struck by a southbound vehicle.
Jesus M., 22, the vehicle's driver, remained at the scene and was arrested for his second DWI.
The pedestrian was taken to the hospital and later pronounced dead, according to the Bryan Police Department.

Fatal DUI Accident Statistics
Because of the extra traffic, there's a chance that accidents will spike over the holidays.
The Department of Public Safety saw a record number of accidents over the holidays (DPS).
When it came to holiday travel safety, HelpAdvisor deemed Texas the most hazardous state to be on the road in. Many Texans will lose their lives in car accidents due to drunk driving or texting while driving between 2015 and 2020.
Hit-and-run deaths in Texas have risen to the 8th highest national level due to an increase in the state. According to the Texas Department of Criminal Justice, hit-and-run fatalities in Texas increased by 30 percent between 2015 and 2016.
One in every five pedestrian accidents in the US is the result of a hit-and-run driver. Pedestrians are the most common victims of hit-and-run accidents.
Brazos County DUI Accident Lawyer for Victims of Fatal DUI Crash
People who have lost loved ones in hit-and-run accidents will be devastated. The insurance industry may prey on those who aren't aware of the dangers that they face. The assistance of a car accident lawyer can be beneficial in a variety of ways.
The driver who fled the scene should cover any medical bills incurred by accident victims and their families. Choosing Arash Law Texas is your best option for securing compensation.
An experienced lawyer can make all the difference in a hit-and-run case. At this point, it is crucial that you take care of your physical and mental health. Arash Law's attorneys will fight for your legal rights to the fullest extent of the law.
Our Brazos County DUI accident lawyers at Arash Law Texas are ready to fight for your rights aggressively. Since the beginning, clients injured in car accidents have always known they can rely on our firm. Contact us if you've been hurt in an accident and need help. At our core, we are concerned with those who have been hit-and-run victims. To speak with one of our attorneys, please dial (888) 398-4017. There is no charge for this consultation.