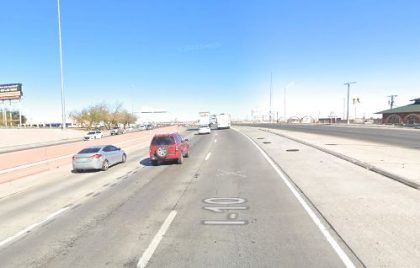 According to authorities, an unidentified woman died after rear-ending a tractor-trailer near Fabens on Sunday, February 27, 2022.
The fatal two-vehicle crash occurred on a Sunday morning at I-10 Westbound at mile marker 49.
When a woman was driving a car, she collided with a tractor tailor.
First responders on the scene confirmed her death.
Deputies from the El Paso County Sheriff's Office closed the crash scene, diverting traffic to the Fabens Rd exit while crews investigated a fatal car accident.
The investigation is still ongoing, and no additional details are available at this time.
Interstate 10 westbound in this area was closed the following four hours.
There are no other details available.
The crash remains under investigation.

Fatal Two-Vehicle Crash Statistics
More and more Americans are being killed or injured in car accidents, and this trend is expected to continue. Over 38,000 people died in car accidents across America last year, according to the National Safety Council.
A significant number of deaths and serious injuries in Texas can be attributed to automobile-related accidents. Every hour and twenty-one minutes, a car accident results in the death of one person and the injury of another in Texas.
Every 100 million miles driven in Texas, a driver is killed in an accident. The number 1.26 will have grown by 18.94% by the year 2020.
Auto accidents in Texas have resulted in an increase in the number of people killed or injured. The overall death toll rose by 7.54 percent in 2020 compared to 2019.
According to the Texas Department of Transportation, more than 14,000 Texans were killed or injured in car accidents in 2020.
El Paso County Car Accident Lawyer for Victims of Fatal Two-Vehicle Crash
A car accident injures or kills about 4.5 million people a year in the United States. People who have lost a loved one in a car accident may have a hard time accepting the reality of what has happened.
An experienced lawyer can help you better understand your legal options after a tragic accident. Car accident victims should be aware of their legal rights and compensation options in order to avoid being taken advantage of by their insurers.
If you find yourself in a similar situation, an attorney can assist you in obtaining compensation.
Our El Paso County car accident lawyers at Arash Law Texas have a proven track record of success in obtaining compensation for our clients. There is no case too big or too small for our legal team, and we are prepared to give our clients the best possible legal representation.
The best way to protect your legal rights is to hire an attorney as soon as possible. Our legal team is ready to assist you with a free consultation at (888) 398-4017 or via our online intake form.