One Midland man was killed in a crash on the Loop 250 and A Street overpass on Saturday, March 5.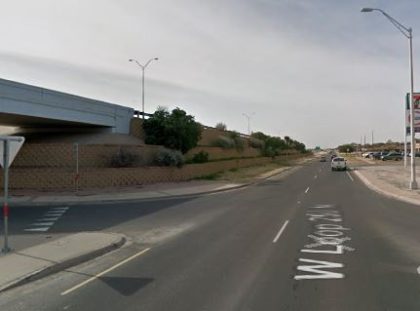 The Midland Police Department and Midland Fire Department were dispatched to a 2-car accident at approximately 2:50 a.m. on the overpass of Loop 250 and A Street.
Upon arrival, officers found a Midland Police Department Patrol Unit hit from behind by a Nissan Altima. The driver of the Altima, 28-year-old Jeremy C. of Midland, was pronounced dead at the scene due to his injuries.
The Midland Police Officer and the passenger of the Nissan, 25-year-old Hernan G. of Midland, were both transported to Midland Memorial Hospital.
Preliminary information revealed that the Midland Police Department Patrol Unit was traveling eastbound in the inside lane of Loop 250. The Nissan Altima was also traveling eastbound on Loop 250 directly behind the MPD Tahoe.
The Altima struck the Tahoe from the rear.
The Texas Highway Patrol's West Texas Region District Crash Team is investigating the accident.
The person's next of kin has been notified.

Fatal Two-Vehicle Crash Statistics
The number of people killed or injured in car accidents in the United States has been rising for some time now. According to the National Safety Council, more than 38,000 people were killed in car accidents in 2010.
A car accident is the leading cause of death and serious injury in Texas. Every twenty-one minutes, a person dies or is seriously injured in a car accident in Texas.
In Texas, one person dies every 100 million miles driven. There will be an 18.94% increase in the number 1.26 by 2020.
Car accidents have become more common in Texas in recent years, and the number of people killed or injured has increased as well. There was a 7.54 percent increase in the overall death toll from 2019 to 2020.
According to the Texas Department of Transportation, more than 14,000 Texans were killed or injured in car accidents in 2020.
Burleson County Car Accident Lawyer for Victims of Fatal Head-On Collisions
An estimated 4.5 million Americans are injured or killed in accidents every year. The families of car accident victims may have a hard time comprehending the magnitude of their loved one's death.
An experienced attorney is the best source of information about your legal options following a tragic accident. Be aware of your legal rights and compensation options in order to avoid being taken advantage of by your insurance company.
If you find yourself in a similar situation, a car accident lawyer can help you fight for the compensation you deserve.
Our Midland County car accident lawyers at Arash Law Texas are prepared to recover the compensation you deserve if you or a loved one has been injured in a car accident. Attorneys on our staff are well-versed in a wide range of legal topics and are ready to tackle any case that comes their way.
Consult an attorney as soon as possible to ensure that your legal rights are well-protected. Fill out our online intake form or give us a call at (888) 398-4017 to set up a free consultation with one of our attorneys.