After a horrific accident in Far Southeast Bexar County, one person is dead, and another is in critical condition on Thursday, March 10, 2022.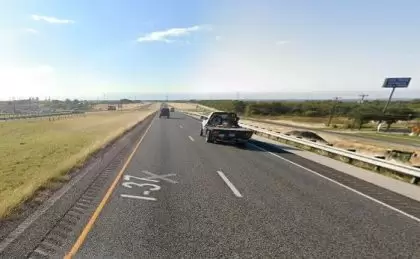 The fatal collision occurred shortly before 12:30 a.m. in the southbound lanes of Interstate 37 near Southton Road.
An 18-wheeler and another vehicle were involved in an accident, according to police.
The big rig was discovered in a ditch, while the small car had sustained significant damage.
One person in the vehicle died at the scene, while another was taken to the hospital with serious injuries.
The 18-wheeler driver escaped injury.
During the investigation, both lanes were closed, but they have since reopened.

Statistics of Fatal Two-Vehicle Crash Involving Children
In 2019, car accidents involving children under the age of 12 resulted in nearly 91,000 injuries and 608 deaths. According to statistics, most children under 12 who die in car accidents are not properly restrained.
Restraints are used differently on a young child. Only 27% of children between the ages of 4 and 7 were found to be driving without a seat belt in 2019. In contrast, 41% of those polled were under the age of 7, and 27% were between the ages of 4 and 8.
When a driver is under the influence of alcohol, the lives of children are put at risk. Alcohol-impaired driving killed more than two-thirds of all child passengers in 2019, with 64 percent of those deaths occurring when the child's own driver was intoxicated.
According to a recent study, when it comes to child restraints, there is a lot of confusion. 46 percent of all child safety seats and booster seats are being used incorrectly.
Bexar County Car Accident Lawyer for Victims of Fatal Crash
Accidents that result in injuries or death affect an estimated 4.5 million Americans each year. Car accident victims' loved ones may have difficulty comprehending what they've been through.
The best way to learn about your legal options following a tragic accident is to speak with an experienced lawyer. In order to avoid being exploited by their insurers, car accident victims should be aware of their legal rights and compensation options.
The help of a car accident lawyer can be invaluable if you find yourself in a similar situation.
Contact our Bexar County car accident lawyers at Arash Law Texas for a free consultation if you or a loved one has been injured in a car accident. Our lawyers are ready to take on any case that comes their way in a court of law.
Hire a lawyer as soon as possible to ensure that your legal rights are protected. Fill out our online intake form or give us a call at (888) 398-4017 to set up a free consultation with one of our attorneys.