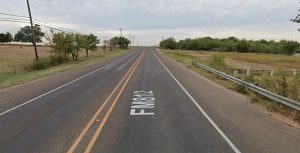 A fatal crash in Bastrop County killed two people on Thursday, March 17, 2022.
The fatal two-vehicle crash occurred on a Thursday evening on FM 812 in Bastrop County.
Troopers from the Texas Department of Public Safety responded to a two-vehicle collision near milepost 552, 10 miles south of Cedar Creek.
One car was traveling westbound when it crossed into the eastbound lane and collided with another vehicle.
The driver of the westbound car, Felipe T., 22, of Austin, and the passenger, Felipe C., 31, of Lockhart, were both pronounced dead at the scene.
Two more people were transported to St. David's South Medical Center.
The eastbound car's driver was treated and released at the scene.
Troopers are looking into whether alcohol played a role in the accident.
The crash remains under investigation.

Fatal Two-Vehicle Crash Statistics
US car accident deaths and injuries have risen steadily over the last few years. The National Safety Council estimates that more than 38,000 Americans lost their lives in automobile accidents in 2010.
In Texas, many people have been killed and injured in car accidents. Every twenty-one minutes, a person dies or is injured in a car accident in Texas.
Every 100 million miles driven in Texas, a driver is killed in an accident. The number 1.26 grew 18.94 percent in 2020.
Texas car accidents were becoming more deadly, resulting in more injuries for the people involved. As a whole, the death toll rose by 7.54 percent from 2019 to 2020.
More than 14,000 people in Texas died or were injured in car accidents in 2020.
Bastrop County Car Accident Lawyer for Victims of Traffic Collision
An estimated 4.5 million Americans are injured or killed each year as a result of accidents. The loved ones of car accident victims may have a difficult time comprehending what they've lost.
After a tragic accident, the best way to learn about your legal options is to speak with an experienced attorney. Those who have been involved in a car accident need to be aware of what they must do to avoid being taken advantage of by the insurance companies.
If you find yourself in a situation similar to this, a car accident lawyer can assist you in obtaining compensation.
Contact our Comal County car accident lawyers at Arash Law Texas if you or a loved one has been injured in a car accident. Our attorneys are prepared to take on any case in a court of law.
Hire a lawyer as soon as possible to ensure that your legal rights are protected. Call us at (888) 398-4017 or fill out our online intake form to speak with one of our attorneys for free.