A 78-year-old May man was killed in a two-vehicle collision on US Highway 183 on Sunday night, March 20, 2022.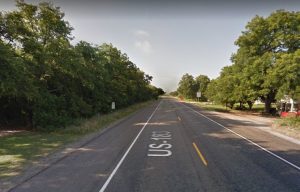 The fatal crash happened on a Sunday night on US Highway 183, 3.3 miles south of May in Brown County.
According to a preliminary crash report from the Texas Department of Public Safety, Jerry B., 78, of May, was driving a car south on US 183 when he stopped on the shoulder of the southbound lane to make a U-turn.
Carl A., 78, of May, was driving south when his pickup truck collided with Burnett's car on the driver's side as he attempted to make a U-turn.
According to the report, Burnett's car spun around, and he was ejected from the vehicle.
He wasn't wearing a seatbelt at the time. Burnett was declared dead on the spot.
According to the DPS report, Alden was treated and released.
The DPS is still investigating the crash.

Fatal Two-Vehicle Crash Statistics
US car accident fatalities and injuries have increased steadily over the past few years. According to the National Safety Council, over 38,000 people died in car accidents last year.
In Texas, automobile accidents are a leading cause of death and serious injury. In Texas, a car accident claims the life of or injures a person every twenty-one minutes.
A Texas driver is killed in an accident every 100 million miles traveled. It has increased by 18.94 percent from 2020.
Traffic-related fatalities and injuries have increased steadily in Texas over the last decade. There was a 7.54 percent increase in the overall death toll between 2019 and 2020.
According to the Texas Department of Public Safety, car accidents killed or injured more than 14,000 Texans in 2020.
Car Accident Lawyer for Victims in Brown County
In the United States, an average of 4.5 million people are injured or killed in accidents each year. The death of a loved one in a car accident can be difficult to comprehend for those who have recently experienced it.
Talking to a knowledgeable lawyer is the best way to discover your legal options after a tragic accident. In order to avoid being exploited by their insurers, car accident victims should be aware of their legal rights and compensation options.
You may be able to get compensation for your losses if you hire a car accident lawyer.
Our Brown County car accident lawyers at Arash Law Texas are ready to fight for the compensation you deserve. Please do not be afraid to contact us. Our legal team can handle any case, no matter how big or small.
You should consult with an attorney as soon as possible to ensure the protection of your legal rights. For a free consultation, you can call us at (888) 398-4017 or fill out our online intake form.