A pickup truck struck a Sugar Land police officer who was sitting inside his cruiser while working at the scene of a previous traffic accident early Sunday, March 20, 2022.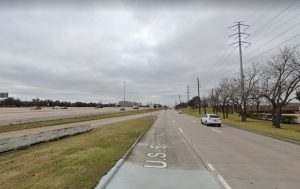 According to news reports, Sugar Land police responded to a single-vehicle accident shortly before 2:00 a.m. along U.S. 59.
A Texas police officer was critically injured while blocking traffic at a crash scene.
Officer Ruben M. was assigned the task of blocking traffic in the HOV lane while a tow truck arrived to clean up the accident.
Munoz was struck by a pickup truck while still inside his cruiser while blocking traffic.
Medics were treating an unconscious Munoz at the scene, and a Jeep collided with the pickup truck.
Munoz was rushed to the hospital and underwent surgery in a critical condition.
The driver of the pickup sustained non-life-threatening injuries, while the Jeep driver was still in critical condition as of Sunday.

Two-Vehicle Crash Statistics
The number of car accidents in the United States is much higher than you might expect. The National Highway Traffic Safety Administration (NHTSA) estimates that a car accident occurs every 60 seconds or less. About 5.25 million Americans are hurt or killed in car accidents every year.
Due in large part to its high percentage of licensed drivers and public roads, Texas is the country's most populous. It doesn't really matter that the country's busiest highway system is located here. As a result, Texas sees a significant increase in the number of traffic accidents.
TxDOT estimates that 3,500 Texans die, and 246,000 are injured each year as a result of traffic accidents.
Injuries to soft tissues, lacerations, fractured ribs, headaches, and migraines are common after a car accident.
Fort Bend County Car Accident Lawyer for Injured Victims
Even if you don't realize it, every driver is putting themselves at risk. A car accident can happen at any time, and it's impossible to know when it will. Drivers who aren't paying attention to the road are all too common in the United States.
Any damages you suffer as a result of an accident that was caused by someone else's recklessness or carelessness may be recoverable.
Those who are seriously injured in a car accident may face medical bills, excruciating pain, and months of unpaid wages. In the event of a personal injury, you will receive compensation for all of your financial needs.
Our Fort Bend County car accident lawyers at Arash Law Texas will fight to get you the compensation you need and deserve for your injuries and losses. If you've been in a car accident, please contact us immediately so that we can assist you. A personal injury lawyer can be reached at (888) 398-4017 for a no-obligation consultation.