According to deputies, two people were killed in a two-vehicle crash that shut down Interstate 30 in Dallas early Monday morning, March 21, 2022.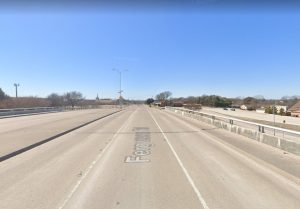 According to the Dallas County Sheriff's Department, the crash occurred around 2:20 a.m. in the eastbound lanes of I-30 at Ferguson Road.
According to a video from the scene, on the roadway, at least two automobiles had substantial damage.
According to the sheriff's department, witnesses stated a Chevrolet Trax was stopped in the left-center lane of eastbound I-30 with its hazard lights.
A Chevrolet Tahoe collided with the Trax from behind, causing it to drift to the right median.
Before coming to a halt, the Tahoe drove eastbound and collided with an HOV zipper wall.
The Tahoe's driver was taken to Baylor Medical Center in Dallas in good condition.
A woman was found inside the Trax and was transferred to Baylor in critical but stable condition.
When the Trax was hit, a man and lady were standing outside and were killed. It's unclear where they were standing at the time of the incident, but they were pushed forward and fell in the left-center lane, where they perished, according to police.
For several hours overnight, eastbound I-30 was closed between the Ferguson Road exit and the Jim Miller Road exit.
All lanes were reopened at around 7:00 a.m.

Fatal Two-Vehicle Crash Statistics
Accidents involving automobiles in the United States have been steadily increasing in number for some time now. The National Safety Council estimates that over 38,000 Americans died in automobile accidents in 2010.
Car accidents cause the majority of fatalities and serious injuries in Texas. According to the Insurance Institute for Highway Safety, one person is killed and another injured in a car accident in Texas every twenty-one minutes.
A Texas driver is killed in an accident every 100 million miles driven in the state. In 2020, the percentage increased from 1.26 percent to 18.94 percent.
People killed or injured in car wrecks have been on the rise across the state of Texas. In 2020, the overall death toll was 7.54 percent higher than in 2019.
According to the Texas Department of Public Safety, more than 14,000 Texans were killed or injured in car accidents in 2020.
Dallas County Car Accident Lawyer for Victims of Crash
An estimated 4.5 million Americans are injured or killed each year as a result of accidents. Car accident victims' families may struggle to comprehend the magnitude of their loss.
After a tragic accident, the best way to learn about your legal options is to speak with an experienced lawyer about your options in court. Victims of car accidents should be aware of their legal rights and compensation options in order to avoid being taken advantage of by their insurers.
If you find yourself in a similar situation, a car accident lawyer can assist you in obtaining compensation.
Contact our Dallas County car accident lawyers at Arash Law Texas for a free consultation to discuss your legal options in the event of a car accident. Regardless of the case, you can count on our legal team to represent you.
To protect your legal rights, you should contact an attorney as soon as possible. You can schedule a free consultation with our firm by phone at (888) 398-4017 or via our online intake form.