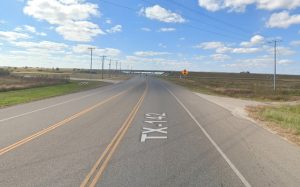 A 19-year-old man was struck and killed by a vehicle while walking along the side of a highway in Lockhart late Tuesday morning, March 22, 2022.
According to the City of Lockhart, the police responded to the collision around 11:45 a.m. on State Highway 142/San Antonio Street.
The young man was struck by a vehicle while walking alongside the road, according to police. According to the City, he died while being transported to the hospital.
According to preliminary information, the driver fell asleep behind the wheel, causing the vehicle to go off the road and strike the pedestrian.
There have been no charges filed.
There are no other details available.
The crash remains under investigation.

Fatal Pedestrian Accident Statistics
In 2016, there were 5,900 pedestrian deaths in the United States, according to the National Highway Traffic Safety Administration (NHTSA). Texas has the highest number of pedestrians killed in the United States each year.
In 2013, there were 1,211 serious injuries and 731 deaths as a result of pedestrian accidents. People failing to yield the right of way causes many accidents in Texas.
Compared to the previous year, there was a 10 percent rise in pedestrian deaths in Texas. In Texas, there were more than 6,000 pedestrian deaths last year.
When drivers fail to give pedestrians a chance to cross the street, pedestrians are often killed or injured. In many cases, alcoholism and depression are linked.
Caldwell County Pedestrian Accident Lawyer for Victims
Inadequate safety measures result in the deaths of a large number of pedestrians each year. An attorney is needed by the family of a pedestrian killed in an accident in order to secure financial compensation.
Victims' families should be compensated for their financial losses, emotional distress, and physical discomfort due to the negligence of others. With the help of an experienced car accident lawyer, those injured in a car accident can receive the compensation they deserve.
Therefore, it is essential that you hire an experienced lawyer. It is possible for lawsuits to be more objective when an attorney represents them.
Our Caldwell County pedestrian accident lawyers at Arash Law Texas are prepared to do whatever it takes to win your case and recover the compensation you deserve. For many years, our firm has successfully litigated on behalf of our clients and the loved ones of those clients. You can speak with one of our experienced lawyers at no cost by calling (888) 398-4017.