According to the Harris County Sheriff's Office, a pedestrian was killed in two separate hit-and-run accidents early Tuesday, March 22, 2022.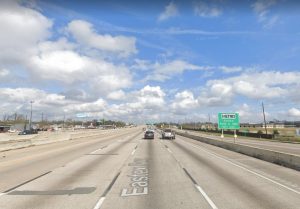 The fatal accident occurred at 12:55 a.m. on the Eastex Freeway's southbound main lanes near Humble.
According to deputies, the pedestrian was struck by a 2016 Honda Civic traveling southbound on the freeway.
Deputies discovered the Civic without a driver at the scene, and officials believe the driver fled before emergency crews arrived.
According to deputies, a second vehicle struck the pedestrian as he lay on the ground.
A second vehicle sped away from the scene as well.
According to HCSO Sgt. Cheek, the pedestrian died at the scene.
According to news reports, deputies aren't sure why the pedestrian was walking on the freeway in the first place.
The accident remains under investigation.

Fatal Hit-and-Run Accident Statistics
As the number of people using the roads rises, so does the risk of an accident occurring in the traffic.
According to the Department of Public Safety (DPS), traffic accidents increase during the holidays.
According to HelpAdvisor, Texas is the best state for holiday driving. Many Texans died from impaired or distracted driving between 2015 and 2020.
The number of people killed in hit-and-runs in Texas is the eighth highest in the country. According to the Department of Criminal Justice, hitchhiker deaths in Texas increased by 30% between 2015 and 2016.
A hit-and-run driver is to blame for one out of every five pedestrian accidents in the United States. Most hit-and-run accidents involve pedestrians.
Harris County Hit-and-Run Accident Lawyer for Victims
It's understandable that the family members of a victim of a hit-and-run accident are inconsolable. Insurance companies may take advantage of them if they aren't aware of the risks. There are many reasons to consider working with a car accident lawyer in the event of an accident, including the fact that you may be entitled to compensation.
The driver who fled the scene must make restitution to the victims and their families. Arash Law Texas is your best choice when it comes to compensation.
A hit-and-run lawyer can mean the difference between a successful outcome and a missed opportunity in your case. More than ever, your physical and mental well-being are critical. When you hire Arash Law, you can rest assured that your legal rights are protected to their maximum extent.
Our Harris County hit-and-run accident lawyers at Arash Law Texas are ready to defend your legal rights in court. Car accident victims who need our help have come to us for decades.
Accident victims in Texas can turn to Arash Law for help if they've been hurt. Hit-and-and-run accident victims can rely on our assistance. That's our ultimate goal. Free consultations are available by calling (888) 398-4017.