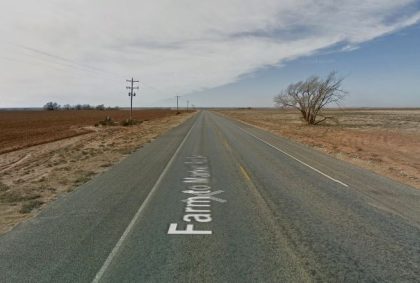 One person identified as 72-year-old John S. was killed in a two-vehicle crash involving a pickup truck and farm tractor on County Road BB on Wednesday evening, May 25, 2022.
According to the Texas Department of Public Safety, the fatal collision occurred at 9:19 p.m. on FM 54 east of County Road BB in Hale County.
Stanton of Petersburg was pronounced dead at the crash scene.
Kelly S., 55, of Petersburg, is suspected of driving a 1990 John Deere Farm Tractor east on FM 54 east of CR BB in the middle of the road, according to investigators.
Stanton was driving east on FM 54 in a 2020 GMC Sierra pickup, approaching the tractor from behind.
The pickup began to pull to the left to pass the tractor, but the front right portion of the pickup collided with the tractor's left hayfork.
Other factors that may have contributed to the crash were not immediately available due to the ongoing investigation.

Fatal Two-Vehicle Crash Statistics
Car accident deaths and injuries in the United States are steadily increasing. According to the National Safety Council, more than 38,000 people died in car accidents in the United States in 2010.
Car accidents are the cause of many deaths and severe injuries in Texas. Car accidents kill one person and injure another every hour and twenty-one minutes in Texas.
An accident claims the life of a Texas motorist every 100 million miles driven. 1.26 percent has risen by 18.94 percent in 2020.
The number of people killed or injured in car wrecks has risen in Texas over the past decade. The overall death toll increased by 7.54 percent between 2019 and 2020.
More than 14,000 Texans were killed or injured in car accidents in 2020.
Hale County Car Accident Lawyers
An estimated 4.5 million Americans are injured or killed in automobile accidents every year. It may be difficult for loved ones of car accident victims to comprehend their loss.
A knowledgeable lawyer is the best way to learn about your legal options after a tragic accident. To avoid being taken advantage of by their insurance companies, car accident victims must be aware of their legal rights and compensation options.
If you find yourself in a similar situation, a car accident lawyer can assist you in obtaining compensation.
Our Hale County car accident lawyers at Arash Law Texas have extensive experience recovering compensation for injured clients in car accidents. Our lawyers are ready to take on any case in order to provide the best legal representation for our clients.
To ensure that your legal rights are protected, contact a lawyer as soon as possible. Call (888) 398-4017 or fill out our online intake form to schedule a free consultation with one of our attorneys.