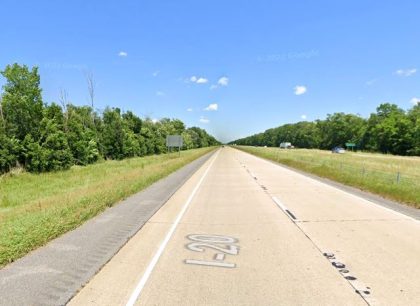 According to Marshall Fire Chief Reggie Cooper, one person died, and at least one other was critically injured after a "chaotic scene" of two multi-vehicle crashes on Interstate 20 early Sunday morning, June 5, 2022.
The fatal collision transpired just after midnight on I-20 between mile markers 634 and 635 on the eastbound side of the highway.
According to Cooper, Marshall Fire/EMS responded to the crash scene, and the identity of the person killed has yet to be revealed.
According to Cooper, patients were taken to LSU and Christus Good Shepherd Marshall, who added that one critically injured person was flown to LSU by helicopter.
According to Cooper, an undetermined number of patients were transported away from the scene by privately operated vehicles, and one person died on the scene.
Cooper described it as a "tragic incident" that necessitated the assistance of multiple emergency agencies.
The crash's cause is still being investigated.

Fatal Car Accident Statistics
Car accidents can significantly impact people's lives and can be extremely distressing. Drivers frequently overlook how dangerous vehicles can become and how devastating car accidents can be because they are so common in our lives.
In 2017, 37,133 people were killed in motor vehicle accidents in the United States, according to the National Highway Traffic Safety Administration of the United States Department of Transportation.
Texas has the nation's highest rate of traffic fatalities. A car accident occurs every 71 seconds on Texas highways. Every 2.5 hours, one person is killed in a car accident, and someone is seriously injured every two minutes.
According to the TTD, there were 19,506 serious injury crashes in 2019, resulting in 30,992 people being seriously injured. In addition, 3,722 people were killed in vehicle accidents.
A multi-vehicle collision occurs when three or more vehicles collide on the road. A " chain reaction " occurs when one car collides with another, a "chain reaction" occurs, causing the second car to collide with the next vehicle.
Fatal car accident victims can be of any age. They frequently follow the law and wear seat belts for their own safety.
Driver inattention, cell phone use, texting while driving, speed, fatigue, failure to yield from a stop or private lane, running a red light, and impaired driving are the most common causes of car accidents.
Harrison County Car Accident Lawyers
Many people struggle to cope with the loss of a loved one in a multi-vehicle crash. While the inquiry is ongoing, the victim's relatives may launch a wrongful death claim.
The expense of fixing one's vehicle after an accident might be significant. If another party's negligence caused your injury, you should not be held financially liable. Insurance companies often undervalue claimants' losses, which is a sad truth. You should consult with an experienced attorney.
An attorney can compensate you for lost pay and emotional anguish caused by the death of a loved one.
Arash Law Texas's Harrison County car accident lawyers have collected millions of dollars in compensation for victims and their families. Please call (888) 398-4017 or fill out our online intake form to schedule your free consultation.