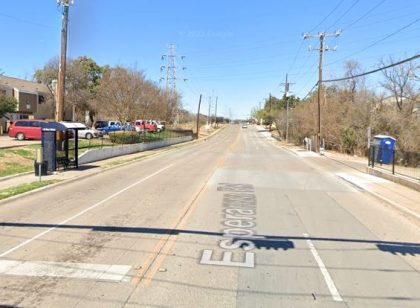 According to Dallas Police, a 71-year-old woman was killed in a deadly hit-and-run crash after being struck by an SUV on Friday, July 08, 2022.
The Dallas County Medical Examiner's Office identified the victim as Portia D., 71, of Dallas.
According to authorities, the SUV struck a pedestrian shortly after 9:30 p.m. in the 13400 block of Esperanza Road, near U.S. 75 and Interstate 635 in Far North Dallas.
According to police, the driver continued driving without stopping to assist. The woman who was hit died as a result of her injuries.
Dallas Police are seeking assistance locating an SUV involved in the fatal hit-and-run.
Anyone with information about the vehicle or the hit-and-run crash is asked to contact Det. Ricardo Rodriguez of the Dallas Police Department via email or phone at 214-671-0011, referencing case number 123266-2022.

PEDESTRIAN ACCIDENT STATISTICS
Over the last 33 years, pedestrians have been involved in fatal accidents in the United States. Pedestrians are more vulnerable to road hazards than passengers in enclosed vehicles.
According to the National Highway Traffic Safety Administration (NHTSA), the federal agency in charge of ensuring road safety in the United States, 5900 pedestrians were killed in 2016.
Between 2010 and 2016, the number of pedestrian fatalities in Texas increased dramatically, rising from 273 in 2010 to 1,238 in 2016. The number of pedestrian deaths has nearly doubled in the last two decades.
There were 5,975 pedestrian-related traffic crashes in Texas in 2019, resulting in 669 deaths, a 5% increase from the previous year. One thousand three hundred seventeen people were critically injured due to the explosion.
DALLAS COUNTY PEDESTRIAN ACCIDENT LAWYERS
If you believe another driver's negligence caused your injuries, you have the legal right to sue them for damages you've incurred due to the accident. Proving negligence is harder than it appears. Before filing a claim, you should seek legal counsel from an experienced personal injury attorney. Lawyers understand what is best for you and what can be done to establish the other party's negligence.
If their claim is successful, pedestrian accident victims or their surviving heirs may be able to receive compensation for their medical expenses, lost wages, psychological distress, and physical and emotional pain. Arash Law represents pedestrian victims injured or killed in traffic accidents in Texas. We have a diverse team of experts, from bicycle to car accident attorneys.
Our Dallas County pedestrian accident lawyers are ready to fight for you. Call (888) 488-1391 for a free case evaluation over the phone or to set up a free consultation with one of our experienced personal injury attorneys. You can also enter your case information on our website or live chat with a representative. Don't put off hiring a skilled Texas injury lawyer: the sooner you do, the better your legal rights will be protected.