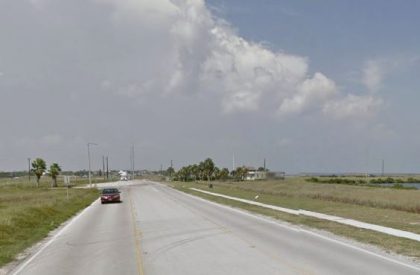 An unidentified construction worker drowned after falling from an offshore platform in the Texas Gulf on Saturday, October 1, 2022.
According to the Corpus Christi Coast Guard, the accident happened around 1:45 pm.
The construction worker was also sporting a safety harness, a tool belt, and a manually inflatable life jacket. The man, according to authorities, did not surface after entering the water, the Charlotte Observer reported.
Local authorities from different department dive teams all began looking for the man.
Around 5:30 pm, the Aransas Pass Police Marine Division found the man's body.
According to an email from a Kiewit Offshore Services representative to the publication, the employee was a scaffolding subcontractor. In Corpus Christi, Kiewit has a 555-acre facility.

Fatal Workplace Accident Statistics
A total of 177,977 non-fatal workplace illnesses and injuries were reported in Texas by private employers. 2018 was the latest year for which we have complete statistics. Nearly a third of all non-fatal accidents resulted in injuries that required time off work. Spent nine days away from work on average during that year.
Non-fatal injuries are only one factor to consider, of course. Nearly daily workplace fatalities in Texas in 2018 caused terrible workplace and family tragedies.
These fatalities were brought on by various causes, including falls, asphyxiation, electrocution, equipment malfunctions, heatstroke, exposure to toxins, and automobile accidents. More people died at work in the same year than in all the murders in Houston, Dallas, Fort Worth, and Austin.
Matagorda County Workers' Compensation Lawyer for Injured Workers
Texas law states employees who sustain an injury at work are entitled to compensation. The Texas workers' compensation attorneys at our firm prioritize defending the rights of all injured workers in the state. You must retain an injury attorney if you or a loved one has been hurt at work.
Avoiding claims is of utmost importance because their workers' compensation insurance covers injuries sustained on the job. Because of this, if you have any other legal claims against your employer, you should speak with a Texas accident lawyer rather than the HR or legal division.
Arash Law Texas's knowledgeable Matagorda County workers' compensation attorneys can help you get the compensation you are entitled to. Learn more about your legal options and the Texas workers' compensation system coverage. Call (888) 398-4017 to set up a free consultation with one of our lawyers.