One 53-year-old man identified as Rodney G. was killed in a two-vehicle wreck in Wood County on Monday, November 29, 2021.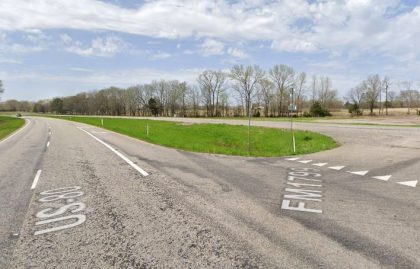 According to the Texas Department of Public Safety, the collision happened on Monday which took place on US-80 at FM-1799, approximately 2.4 miles west of the city of Mineola in Wood County.
Investigators have determined that the 53-year-old driver of a 2010 Nissan Altima was traveling south on Farm to Market Road 1799 when he stopped at the intersection of US Highway 80.
At the same time, a driver in a 2019 Dodge Challenger was headed west on US-80. The driver of the Nissan failed to yield to the westbound vehicle on US-80, traveling into its path.
The 53-year-old Nissan driver was airlifted to UT-Health East Texas where he was later pronounced dead. However, on-scene medical personnel did not transport his passenger identified as 53-year-old John S. from the scene of the crash because he sustained non-life-threatening injuries.
The 25-year-old driver of Dodge Marcus C. and his passenger 30-year-old Jessica O. were taken to UT-Health East Texas – Quitman for treatment.

Fatal Two-Vehicle Crash Statistics
More people have died or been seriously injured in car accidents across the United States in recent years. According to the National Safety Council, 38 thousand people were killed in car accidents in the United States last year (NSC).
For the most part, car accidents are responsible for most of Texas's fatalities and injuries. In Texas, one person dies in a car accident every twenty-one minutes, and one person is injured every minute and four seconds.
The Texas highway fatality rate for 2020 was 1.50 deaths per 100 million vehicle miles traveled. 18.94 percent more than the previous year's figure of 1.26 percent.
Since 2007, the number of people killed in traffic accidents in Texas has gone up. 7.54 percent of the 3,623 deaths in 2019 were predicted to occur in 2020.
As of 2020, Texas is expected to see 12,107 serious-injury crashes, with 14,656 people seriously injured.
Wood County Car Accident Lawyer for Victims of Two-Vehicle Collision
Approximately 4.5 million people are injured or killed in car accidents in the United States every year. The death of a loved one in a car accident can leave a family reeling and unsure of what lies ahead.
After a tragic accident, you should consult with a knowledgeable attorney about your legal options. Victims of car accidents need to be aware of their legal rights and compensation in order to avoid being taken advantage of by insurance providers.
Your lawyer can assist you in filing a claim and explain why it is necessary for people in your situation to do so.
Our Wood County car accident lawyers from Arash Law Texas are all experts and dependable when it comes to legal battles. If you hire a lawyer as soon as possible, you are more likely to protect your legal rights. Call (888) 398-4017 or fill out our online intake form to schedule a free consultation.