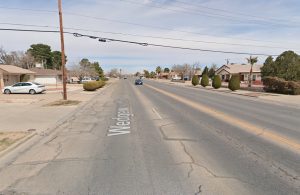 Two unidentified people were taken to the hospital after a collision involving two motorcycles on Saturday afternoon, March 19, 2022.
According to El Paso Fire Dispatch, the crash occurred around 5:30 p.m. along the 3300 block of Wedgewood Drive.
Two people were taken to the hospital as a result of the accident, according to officials with the El Paso Police Department (EPPD).
There are no other details available.
The crash remains under investigation.

Motorcycle Accident Statistics
Too many people lose their lives in motorcycle accidents, which are all too common. Motorcycle riders have a higher risk of death or serious injury than any other type of road user. According to the National Highway Traffic Safety Administration, motorcyclists are 27 times more likely to die in an accident than car passengers (NHTSA).
According to the most recent estimates, at least one motorcycle rider is killed in Texas every day. National Highway Traffic Safety Administration statistics show that Texas has an especially high motorcycle-related injury and death rate.
More than 1,800 people were killed, and more than 400 were injured in motorcycle accidents in Texas this year. According to these figures, motorcycle riders in Texas are in danger on the roads.
Accidents involving motorcycles occur far too frequently due to vehicles making left turns at intersections. If cars fail to yield and turn in front of motorcycles, they have no control over the situation.
El Paso County Motorcycle Accident Lawyer for Injured Victims
Motorists often disregard the safety of motorcycle riders despite having the legal right to be on the road. Drivers have a 25-30 times greater risk of a motorcycle accident than non-motorcyclists because they are not used to seeing motorcycles on the road.
Always seek legal counsel before making any major decisions regarding your case. In order to ensure that you receive all of the compensation to which you are legally entitled, you should work with an experienced attorney.
You'll need the help of an attorney from Arash Law to file a claim. They can also represent their clients in insurance provider negotiations as an additional perk to their services. As a law firm, Arash Law has a wide range of legal experts at its disposal, from motorcycle accident attorneys to car accident attorneys.
Our El Paso County motorcycle accident lawyers at Arash Law Texas are prepared to aggressively defend your rights. We're here to support you and your family in this time of need. Call our office at (888) 398-4017 to set up a free consultation with one of our attorneys today. If you've been in a motorcycle accident, you should contact one of our experienced motorcycle accident lawyers right away.