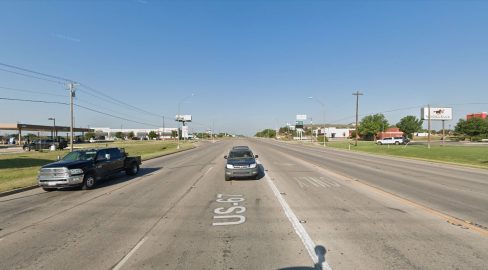 A 26-year-old San Angelo man identified as Luis S. was killed early Friday on US 67, five miles north of San Angelo, when his car collided with a tractor-trailer on Friday, March 18, 2022.
The fatal crash occurred early Friday morning on US 67, approximately five miles north of San Angelo.
According to a preliminary crash report from the Texas Department of Public Safety, the tractor-trailer, driven by La Treveon H. of Moreno, California, was traveling southbound on 67.
The 26-year-old man was driving northbound in a car.
According to the report, Serrano was driving on the wrong side of the road for unknown reasons.
Hawkins attempted to take evasive action, but the truck collided with Serrano's car on the front left side, according to DPS.
Hawkins sustained non-incapacitating injuries as a result of the collision. Serrano was declared dead on the spot.
The DPS is still investigating the crash.

Two-Vehicle Crash Statistics
In recent years, the number of people killed or injured in car accidents in the United States has increased steadily. The National Safety Council estimates that more than 38,000 Americans lost their lives in automobile accidents in 2010.
Many Texans are killed or seriously injured each year as a result of car accidents. One person is killed and another injured in a car accident in Texas every twenty-one minutes.
It is estimated that one Texas motorist is killed in an automobile accident every 100 million miles that are driven. The number 1.26 grew 18.94 percent in 2020.
More people were dying and getting hurt in car accidents in Texas. 7.54 percent more people died in 2020 than in 2019.
More than 14,000 people died or were injured in car accidents in 2020.
Car Accident Lawyer for Victims in Tom Green County
An estimated 4.5 million Americans are injured or killed each year due to accidents. The loved ones of car accident victims may have difficulty comprehending what they've lost.
An experienced lawyer is the best way to learn about your legal options following a tragic accident. If you've recently been involved in a car accident, you must understand your rights and responsibilities under the law.
Having a car accident lawyer on your side can help you secure compensation if this happens to you.
Contact our Tom Green County car accident lawyers at Arash Law Texas if you or a loved one has been injured in a car accident. They are prepared to take on any case that comes their way in a legal proceeding.
Protect your legal rights as soon as possible by hiring an attorney. To schedule a free consultation with one of our attorneys, please complete our online intake form or call (888) 398-4017.